Skip to main content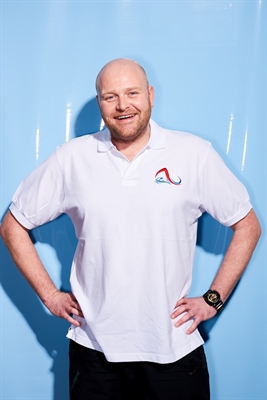 Matt Duggan
Nationality
British / Plaistow, London
Favourite Stroke
Butterfly
Bio
By the age of 8, Matt had progressed through the swimming ranks in his local club and started swimming competitively a year later. He swam up to national level attending swimming galas all over the south of England where his events were 100 & 200m Backstroke, 50 & 100m Butterfly and the 100 & 200m Individual Medley. Matt put a halt on competitive swimming at 17 to concentrate on his A-Levels.
Matt went on to become a lifeguard to help fund university, where he studied Civil Engineering. He continued to lifeguard and simultaneously completed his swimming teacher's certificates; after a few months of teaching it dawned on him that this was the career path he wanted to pursue. Matt went on to meet swimming coach Peter Prijdekker (former Olympic swimmer & co-founder of Red Top), with whom he shared valuable coaching insights and support. Peter brought Matt into the coaching team at Red Top at which point his passion for open-water swimming developed even more. He has since crewed numerous marathon swims across 4 continents, and has also completed the English Channel and Strait of Gibraltar swims as a soloist. He works very closely with Tim to support the English Channel swimmers who arrive on our shores to attempt "The Big One"!
Why Swimming
I began swimming lessons when I was 5 years old. I remember on my first lesson sitting on the side of the pool with my legs dangling in the water crying my eyes out. I really didn't want to get in – the pool was a cold, dingy, dilapidated tank with scary teachers pulling kids along by their hair which didn't help. That may be a little exaggerated but that's where it all started. I progressed onto the local swim club (Plaistow SC), where my older sister swam too.  Swimming competitively appealed much more than other sports because you could compete every week and win medals, rather than a team sport where there's only a relatively slim chance you may win something at the end of the season!
Major Sporting Achievements
Open-Water Swims - inc. English Channel solo, Strait of Gibraltar solo
Swimming at a National level (50 & 100m Butterfly and 100m Backstroke predominantly)