Skip to main content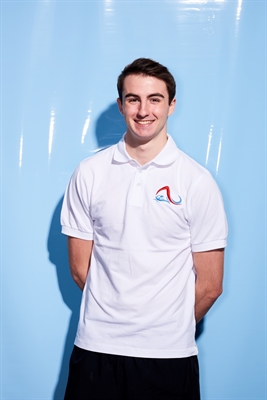 Alex Richards
Nationality
British / Ilford, Essex
Favourite Stroke
Freestyle
Bio
Alex was introduced into swimming amongst other sports at a young age and quickly developed a passion for sports and the science behind them. He later went on to study Sport and Exercise Science at the University of Brighton where he covered various aspects of sport science including Sports Physiology, Psychology, Bio-mechanics, Nutrition and Environmental Physiology, with his dissertation study on The Effects of Intermittent Hypoxic Exposure (4,800m) on Swimming Economy and 400m Time Trial Performance in Competitive Swimmers .
Over the years Alex has competed in both swimming and running at a national level and has represented and captained his University swim team at numerous BUCS and Varsity championships. His targets include bringing his cycling up on par with his swimming and running, so as to be competitive in triathlon.
Why Swimming
My parents introduced me to swimming at a young age as they believed it was an essential life skill to have. I really enjoyed it but also took up various other sports through my younger years such as running, rugby and football, but my skills in the pool were never surpassed by these other sports. Following in my sister's footsteps, I saw her train and compete in numerous races for her club and a strong passion for swimming coupled with a competitive sibling rivalry drove me to take up swimming at a competitive level.


Major Sporting Achievements
Represented Brighton University Swim Team at a National Level (2012-2015)
Represented County in the National Inter-county XC Championships
4th in the National Schools Duathlon Championships
1st in the Youth Games Aquathlon