Overview
On 7th October 2018, Guy Moar, Hannah Monaghan, Elliot Newsonen and David Roche swam across the Strait of Bonifacio from Sardinia to Corsica.  A 14.5 km crossing from Rena Bianca, Sardinia to Capo Sperone, Corsica. It was a demanding sea swim that we underestimated. We successfully completed the swim in 6 hours 11 minutes.  The water temperature was 21 degrees.
Details
Name: Strait of Bonifacio Crossing

Location: Mediterranean sea between Sardinia, Italy and Corsica, France

Route: Rena Bianca, Sardinia to Capo Sperone, Corsica

Type: Sea swim

Distance: 14.5 km

Swim Time: 6 hours 11 minutes

Team: Guy Moar, Hannah Monaghan, Elliot Newsonen and David Roche (all from

Red Top Swim

)

Water Temperature: 21 degrees

Support: Provided via

Bocche Bonifacio Swimming

Date: 7th October 2018
The Full Story
The strait
The Strait of Bonifacio is the channel of water between Sardinia, Italy and Corsica, France in the Mediterranean Sea.  The shortest distance across it is 11 km (5.9 nautical miles) from Santa Teresa di Gallura on the north west coast of Sardinia to the region of Bonifacio on the southern tip of Corsica.  The strait has a maximum depth of 100 metres.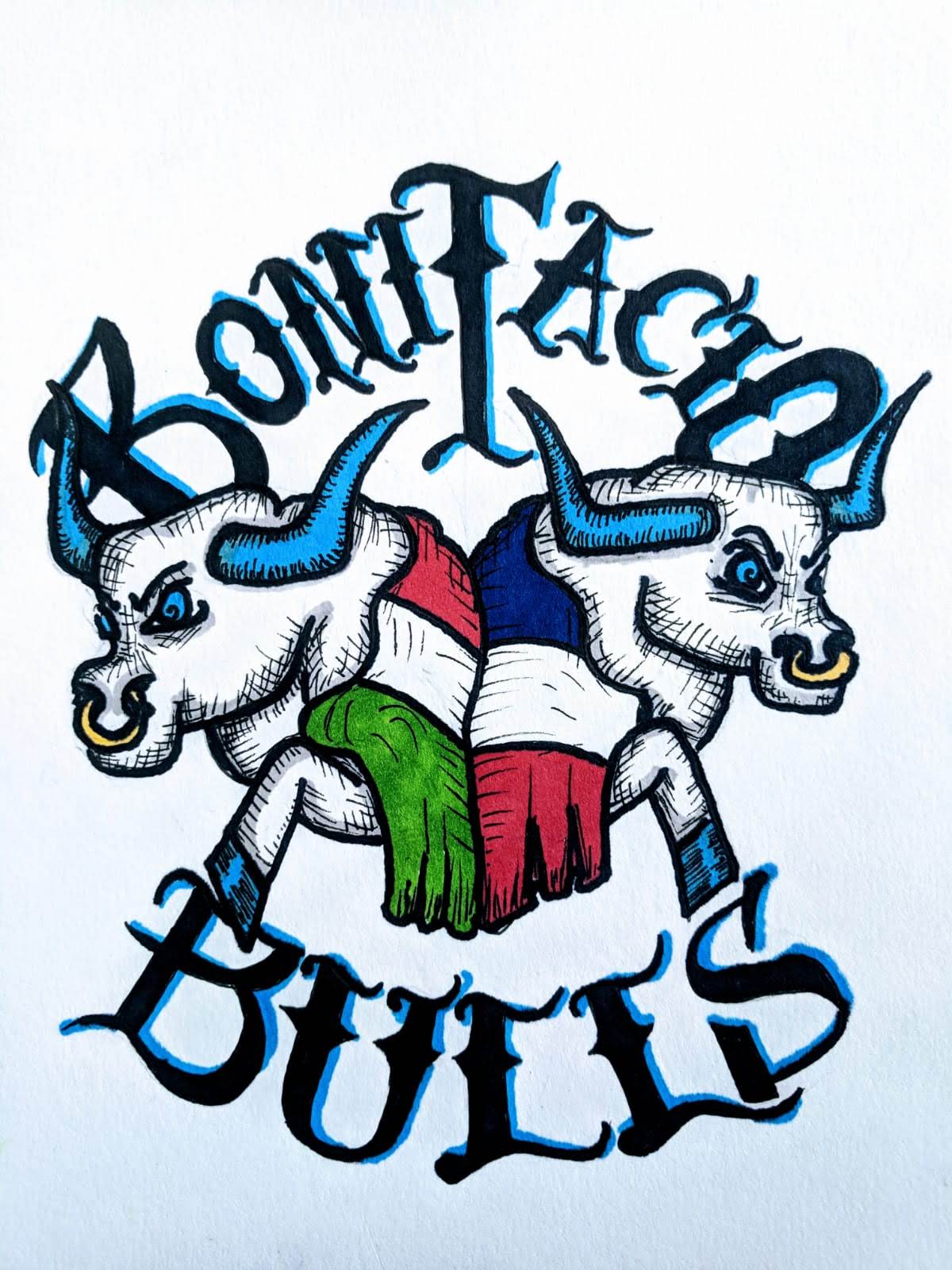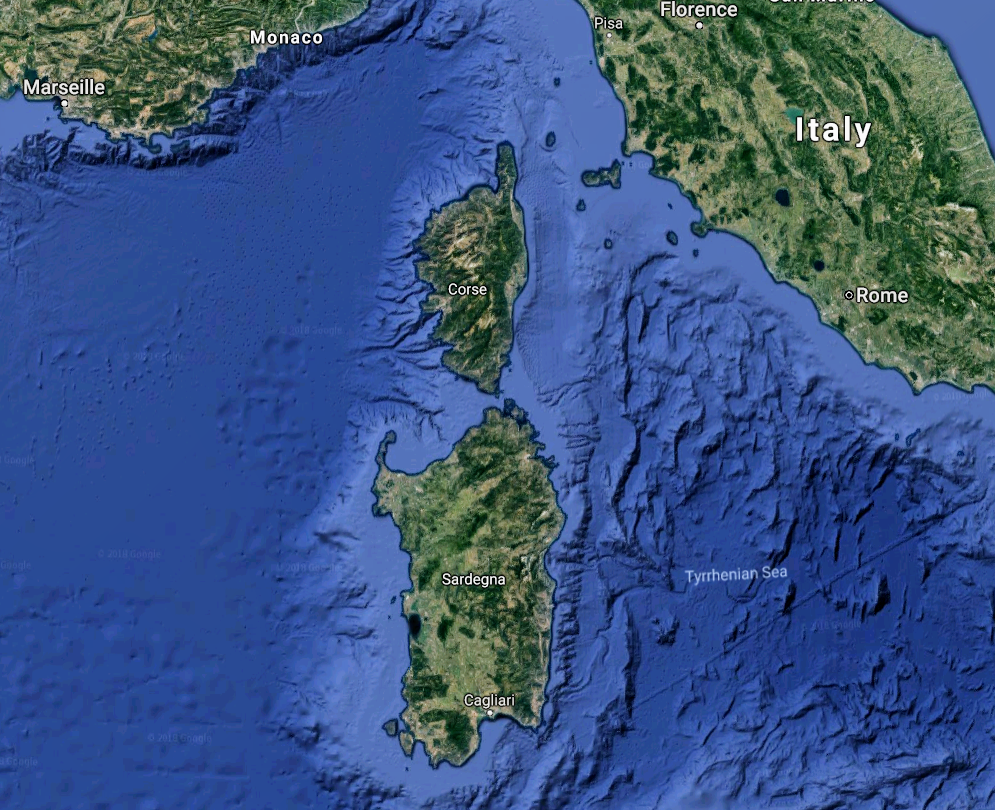 According to Wikipedia, "the strait is notorious among sailors for its weather, currents, shoals, and other obstacles" and "passage through the Strait of Bonifacio has been prohibited for French and Italian flag ships with dangerous goods."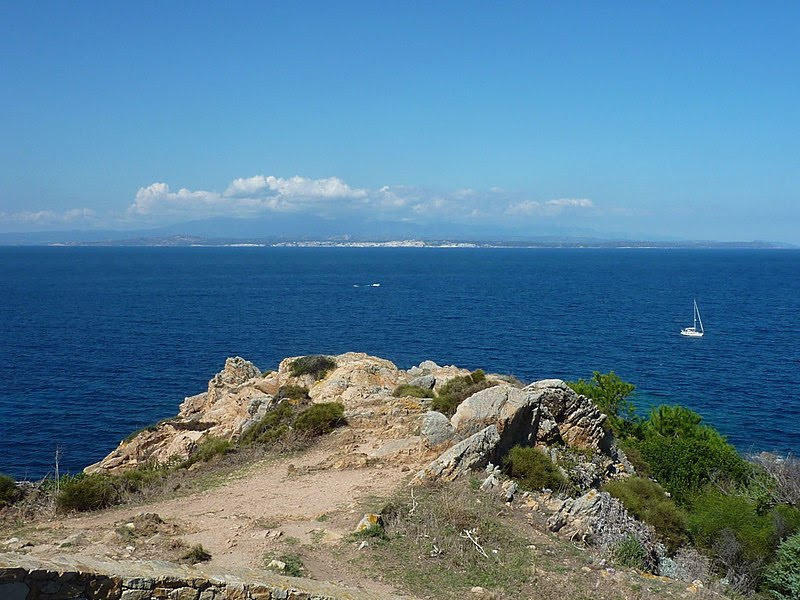 Deciding to do it
The Strait of Bonifacio swim had been heralded by Red Top Swim's head coach Tim Denyer as one he wanted a group from Red Top Swim to do.  Whilst I'm sure many locals will have done it over the years, it's fairly unknown on the global open water swimming scene and there certainly is very little information online about it.  Which only added to the appeal of the swim.  
We started thinking about the swim in June of 2018, with a view to doing it in October that year.  That's relatively late in the open water swimming season (which typically spans the warmer summer months), but the average water temperature in October of 21 degrees meant we were very comfortable doing it then.  By way of comparison, when I did the English Channel Relay in 2017 the water temperature was 15-17 degrees.
So we decided to do the swim four months before we attempted it.  That's quite quick for me, as usually I've pre-planned my big swims many months in advance, and often the previous year.  However, we felt that it was "only" an 11 km swim and therefore we could do it fairly easily. But I'll come back to that assumption!
The team
The swim is often done pod-style, with a small group of swimmers doing the whole distance swimming side-by-side.  As I learnt during my Strait of Gibraltar swim, in practise it can be quite tricky to stay side-by-side in a sea swim, but as long as you're within say 20 metres of each other, it works.  But it dictates that all swimmers in the pod are of similar speed.
The team nature of the swim definitely appealed to me.  I had really enjoyed both team swims I had done the previous year; the Strait of Gibraltar as a pod and the English Channel as a relay.  I'm a big fan of sharing a challenge with others as I find it motivating and often, more enjoyable. So assembling the team was the first step.
The first two names on the team-sheet were myself and David Roche ("Rochie").  Rochie and I were part of the three man "Red Top Bulls" team that swam an English Channel Relay in 2017.  And it was the two of us that first decided to do this swim. Rochie and I had been doing a lot of training together in 2018 both as part of the regular Red Top Swim training sessions and separately as a pair.  Having logged many kilometres swimming together over the years we knew that we both swam at the same speed.
Next on the team sheet, and the first new member of the Red Top Bulls, was Hannah Monaghan. Hannah is part of Red Top Swim and so swims with us regularly.  She had previously done a very fast six-person English Channel Relay and a two-person relay of Lake Zurich. She is quicker than Rochie and I, but she was comfortable swimming at our pace, swimming different strokes to slow herself down, or waiting if necessary, particularly with the water being relatively warm.  What I loved is that when we asked Hannah if she would be interested in doing the swim, she responded without hesitation, "I'm definitely in." So we knew we'd found our third swimmer.
The fourth swimmer was Guy Moar.  Also part of Red Top Swim, Guy is an accomplished open water swimmer having successfully swam four of the Oceans Seven swims (English Channel, North Channel, Strait of Gibraltar and Tsugaru Strait).  However, Guy had had shoulder surgery the previous year. Whilst he was back in the water swimming, he was a long way from his usual fitness. Based on what he'd done previously, we were all confident that Guy could smash this swim.  And to have someone of his experience with us was a real boost.
So with that the team was complete.  The latest line-up of the Red Top Bulls were ready to face their next swim challenge.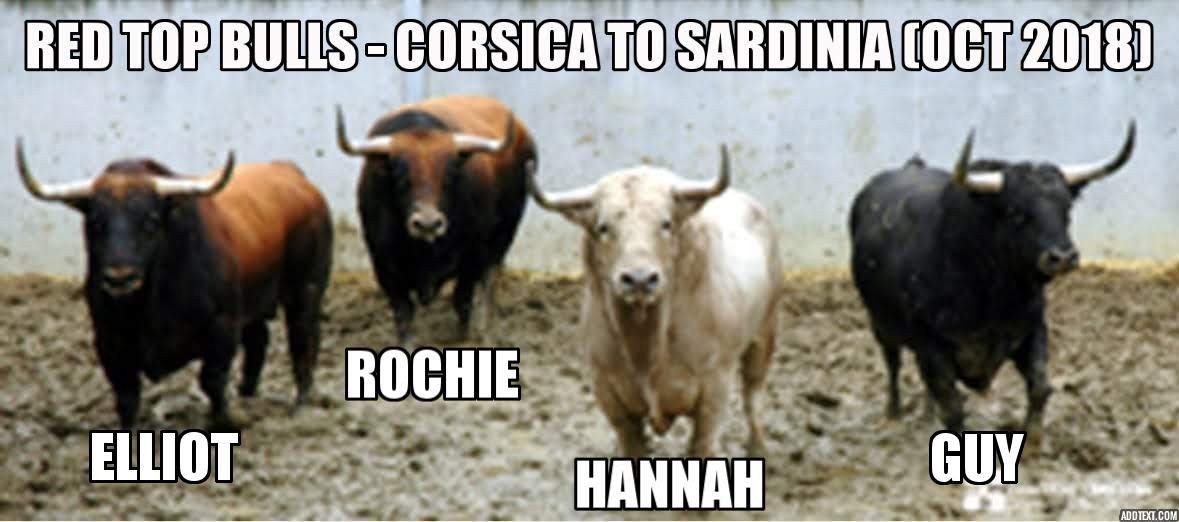 Getting a spot
I took the lead on organising the swim.  It's "officially" managed by Bocche Bonifacio Swimming , but I initially struggled to find information about them online.  Their website does not readily appear on google when searching for information about the swim, and I only found out about it after the swim when they told me they had one.  But in the absence of the official website, I discovered an extremely useful swim report that unlocked the swim for us: No BS Guides: Corsica to Sardinia swim by Nick Adams.
As well as providing lots of useful information about the swim (I'd recommend reading it if you're interested in doing the swim), it included the contact details of Tomasso Munatoni.  Tomasso is based in Sardinia and runs the Bocche Bonifacio Swimming organising body. So this gave us what we needed to get going.
We were fortunate that one of the Red Top Swim coaches, Egor Tropeano, is Italian.  He kindly offered to contact Tomasso on our behalf and help us organise the swim. Whilst Google Translate can be very helpful, I knew having an Italian speaker handle all the interactions with Tomasso would be invaluable.
We then simply requested to do the swim in the first week of October.  Bearing in mind it was already June, we were very pleased when Tomasso confirmed that would be ok.  He pretty much said we could do it whenever we wanted. This was actually quite a surprise as we're used to there being very limited spots for these sorts of swims.  For example, I understand the Strait of Gibraltar swim now has a two-year waiting list! But I guess this shows how fairly new and relatively unknown this swim is.
Tomasso recommended we stay in the area for at least 4 to 5 days, to give us a suitable window to attempt the swim.  A window of at least a couple of days for sea swims is often required as the weather can be unpredictable. So you typically plan for a window and then nearer the time, you pick the best day within the window to attempt the swim.  As Sardinia is not a bad place to spend some time, we decided we'd go for a week, giving ourselves a 6 day window.
My training
I had been training reasonably consistently since January this year, doing 12 km a week and averaging 50 km a month.  This included the annual Red Top Swim training camp in Croatia in June, where we had done 62 km in a single week. Because we didn't decide to do this swim until shortly after we returned from Croatia, unusually for me, I hadn't trained this year with this swim in mind.  But 9 months of training at this volume (January to September) put me in a good spot for the swim.
The build-up  
I have to say that the build-up in the run up to the swim wasn't as smooth as it could have been.  The information provided by Tomasso upfront was extremely limited and often quite vague or conflicting (bearing in mind we were unaware of the official website).  I took this as part of the charm of the swim and an aspect of the adventure we were embarking on. But getting specifics on the exact distance, the expected weather, the route and even the price was tricky.
When you are sitting in a vibrant office in London, with active communication channels buzzing all around you, it's easy to forget that life on an island in the Mediterranean doesn't flow in the same way.
With Egor's help, we knew we were booked in to do the swim, so we booked our flights and accommodation and got on with it.  As we were an experienced group of swimmers, we were ultimately comfortable not really knowing the details in advance. We just accepted this was how it was going to be and decided we'd see what would happen when we got to Sardinia.
The week prior to our arrival in Sardinia we were told by Tomasso that the weather looked very bad for the whole of our window.  But we'd deliberately gone for a long window to maximise the likelihood of a good day, so there was still a chance we could do the swim on either the Sunday or the Monday.  Tomasso told us he would confirm in person in a briefing with us on the Saturday evening.
Arriving in Sardinia
On arrival in Sardinia on the Saturday, we had a minor disaster when Guy's suitcase did not arrive.  Unfortunately all of his swim gear and nutrition was in his suitcase. The airline located the suitcase, but wouldn't be able to deliver it to him until Sunday evening.  So there was a chance Guy wouldn't have his own stuff for the swim.
This is where the team effect comes in.  Between us we had enough spare equipment to loan Guy, namely swim trunks, hat, goggles and nutrition.  But justifiably, swimmers are quite particular about their goggles because they have to fit your face perfectly for comfort and so they don't leak.  So whilst we were able to loan him a pair, they weren't perfect for him. The lesson here is always carry your goggles in your hand luggage if travelling for a swim (although none of us had done that on this occasion).
It was at this point we realised that Guy was basically doing this swim in the opposite way to all his previous swims, like George Costanza doing the opposite in Seinfeld .  He wasn't ready physically, he had very limited information on the swim, he had none of his own swim equipment and he was going to have to scrounge whatever spare nutrition he could from the rest of the team (more on that in a minute).  The opposite baby!
Under-estimating the swim  
When we had discussed the swim in advance as a team during the build-up, we made a major mistake.
The information we had meant we thought the swim was going to be 12 km.  And in the only two swim reports we were able to find online about this swim, both pods had completed the swim in just over 4 hours.
We knew that we can all comfortably swim at least 3 km an hour over long distances.  So we assumed we'd comfortably complete the 12 km swim in approximately 4 hours.  And whilst we were doing the swim at a different time of year than those in the race reports we'd read, we felt comfortable that we do the swim in a similar time to those who'd preceded us.
Ultimately, we assumed the swim would be relatively straightforward.  It's the Mediterranean after all! But all these assumptions were to be tested...
Nutrition
We discussed how we would all do our nutrition for the swim in advance.  Hannah and Guy opted to prepare their own nutrition. I would prepare the nutrition strategy for myself and Rochie.
With all the challenges in the build up with communication, I wanted to keep the nutrition plan extremely simple.  We wouldn't have our own crew member on-board the support boat, and I was concerned that the language barriers we'd experienced already might make things difficult during the swim.  So we couldn't rely on feeds to be custom-prepared for each of us during the swim, like we'd all benefited from on previous long swims.
So my plan was to pre-prepare everything, pouring our feeds into 500ml water bottles and labelling and numbering them E(lliot)1, R(ochie)1, E2, R2, E3, R3 etc.  That way at each feed we could simply ask for the correct, pre-mixed bottle. Rochie and I had tested this method on a previous long swim and it worked very well.  You don't have to think about what you're having on each feed, you just need to remember what number feed it is.
In addition to the pre-prepared bottles of feed, we would have a lot of extra gels on-board.  We would simply ask for these if we wanted to vary things up a bit. And I should say that we had decided to feed on a consistent 30 minute cycle, as that was what we were used to and again, we wanted to keep it simple.
Finally, we thought we may require some hot feeds.  Whilst the water was a relatively warm 21 degrees, after an extended period of time in any water it can feel cold.  So we also brought a 5 litre flask of hot water and a couple of spare bottles. The thinking was that we could simply ask for some hot water in addition to our planned feed if the need arose.
I had bought a lot in the way of nutrition, and much more than Rochie and I needed.  But this was very fortunate when Guy lost his suitcase as I was able to give him lots of stuff.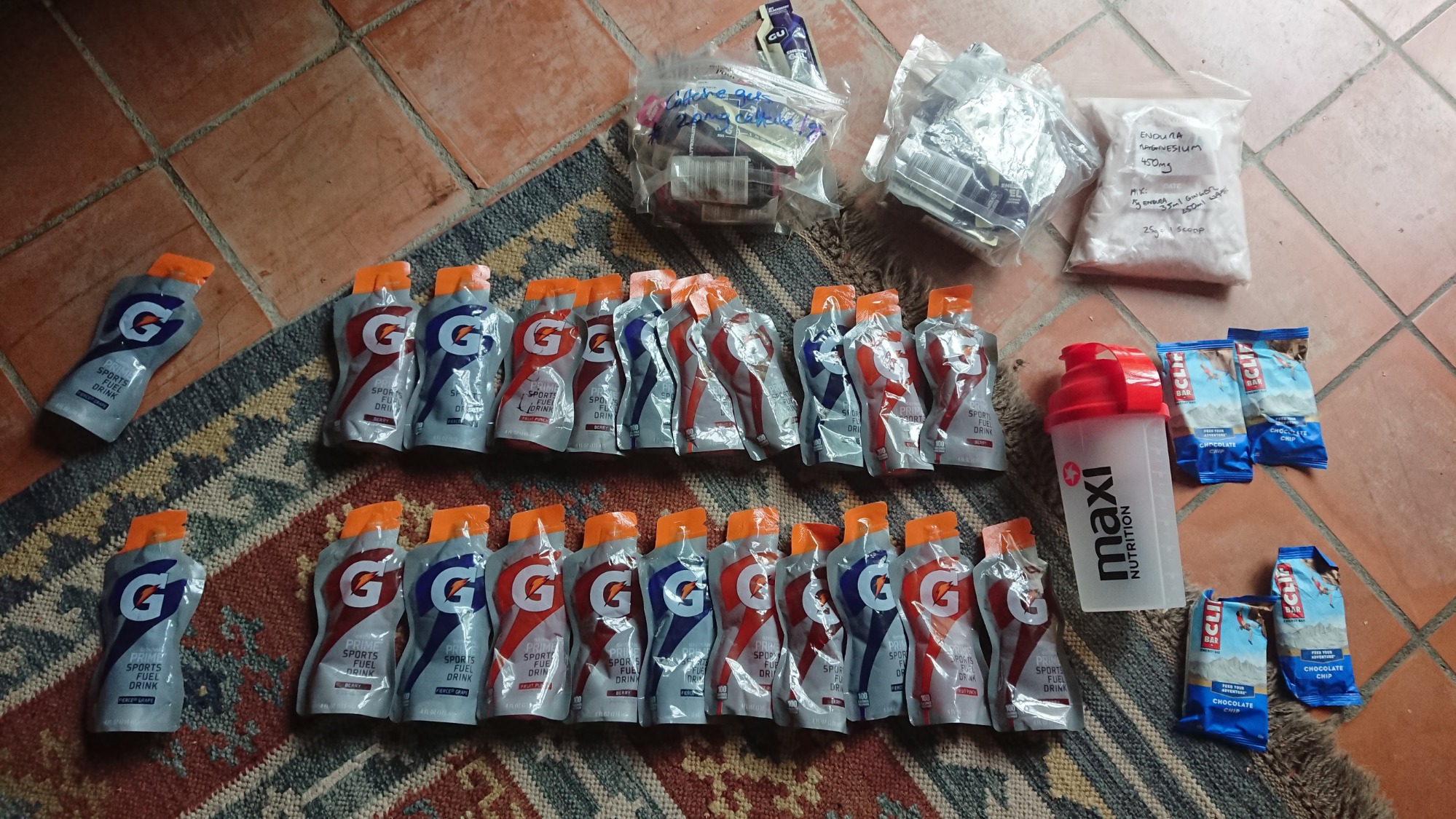 I planned for 5 hours worth of pre-prepared feeds, to give a one hour contingency over the expected swim time of 4 hours.  So when Guy was short, we decided that Rochie and I only needed 4 hours of pre-prepared feeds as we'd be done after that. So our careful and rigorous feeding plan only went up to 4 hours.  We then took a large quantity of spare gels that I had brought with on the boat "just in case".
For the swimmers out there, the feeding plan for Rochie and I at each feed was simply a Gatorade Prime (125ml) plus 125ml of water.  So 250ml total at each feed. We pre-prepared 8 each (4 hour swim divided by 30 minute feed cycle). For variety, the feeds rotated through the Gatorade Prime flavours we had (Fierce Grape, Berry and Fruit Punch).  The extra gels I had, which we'd ask for as needed, were Gu with Caffeine (32g) in Jet Blackberry and Tri-berry flavours. I had about 30 of these Gu gels as I had just brought all I had with me (and I'm glad I did).  I did also have some Endura with me, but elected not to bother using it. I know this feeding strategy isn't perfect, as you should alternate gels (and not just flavours) on long swims. But for what we thought would be a "short" swim, we weren't too concerned about that in advance.
The briefing  
Tomasso had requested we meet with him on Saturday evening at 7pm for a briefing.  It can best be described as short. He said we would probably attempt the swim the following morning, Sunday, but this would be confirmed in the morning.  We were to meet him at the port at 6.30am when he would confirm.
During the briefing, Tomasso introduced us to Marco who would be on the boat with him.   Marco spoke English, and this was very helpful as we were able to confirm that we wanted to feed on a 30 minute cycle.  It was still unclear as to what the weather conditions would be, but Tomasso appeared to think it was our best chance at the swim given the forecast weather.  It was also still undecided what direction we would swim i.e. Sardinia to Corsica or Corsica to Sardinia, but Tomasso said he would confirm that in the morning.
After declining some local wine that Tomasso graciously offered us, we bid adieu for our beds.  At this point we were due to meet him again in 11 hours time at the port and we needed to make final preparations back at the apartment.
The start
We met Tomasso and Marco on Sunday morning at 6.30am at the port.  It was still dark as the sun had not yet risen, but Tomasso confirmed the swim was on.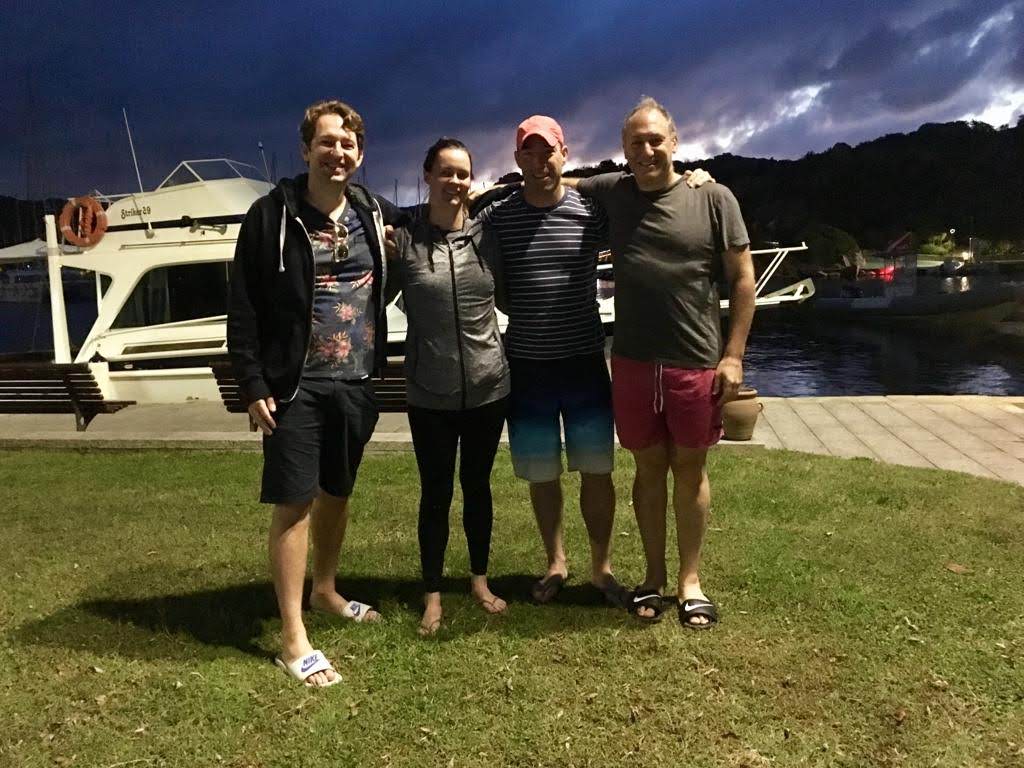 We had all brought copies of our medical certificates and our passports as these had been requested upfront, but Tomasso did not ask for these.  Instead, he told us that he was going to test our blood pressure. Now, I'm not a doctor, but it's perhaps not the best time to do a blood pressure test immediately before you're about to do a channel swim when your adrenaline is pumping.  And what was funny was, we all sat there in turn doing the test, but then got no feedback whatsoever after the tests. So we just assumed all was good!
After that we boarded Tomasso's boat and set off.  We still weren't sure where we were starting from, Sardinia or Corsica.  So we had to ask and Tomasso confirmed we would be starting from Sardinia.  We simply came around the first headland from the port and landed on the beach at Rena Blanca where we were staying.  So we all quickly got ready, dove into the water and swam to shore.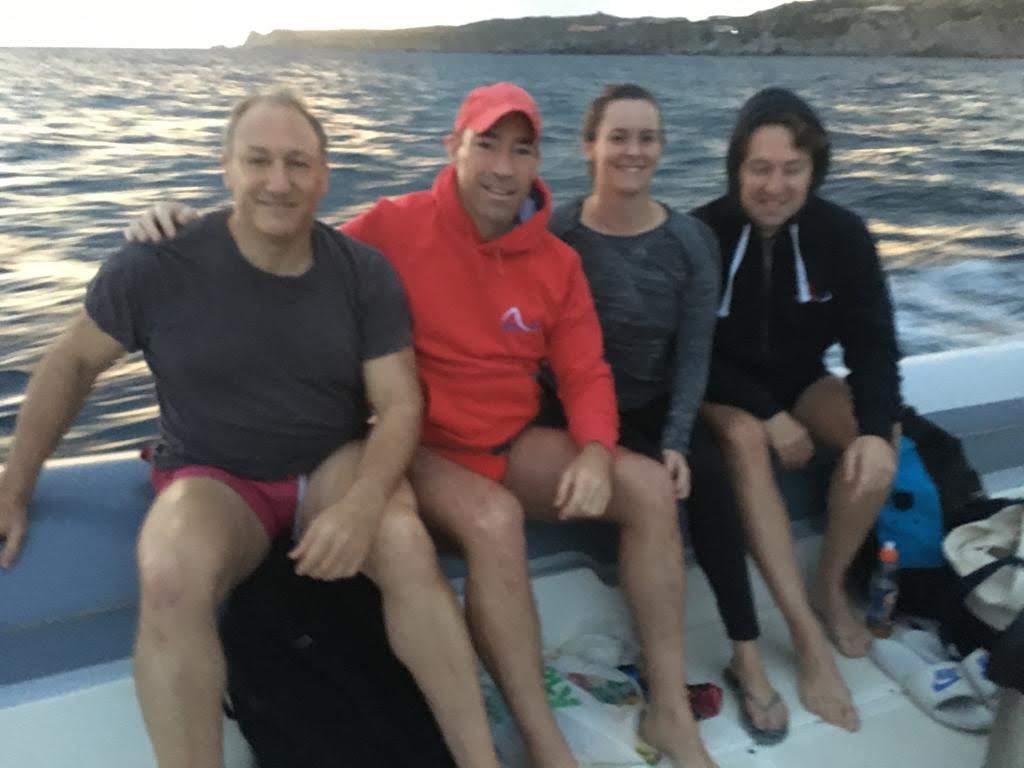 The sun had come up now, and the swim into the beach was brilliant.  The water temperature was fine but it was a little windy and therefore choppy.  As the four Red Top Bulls all independently swam into the shore, I started to get really excited about what we were about to do.  The run up had not been perfect, but now we all immediately just settled. This was what we were here for and we had made it to the start line.  Now we'd just get on with the swim and get it done.
First hour
With the hugs and handshakes completed on the beach, we all waded out and dove into the Strait of Bonifacio to swim to Corsica. 
I had a terrible start.  Unfortunately, I was sick within 20 metres.  Whilst the water was quite choppy at the start, it wasn't that.  I have a recent problem where I produce excess phlegm. This in turn can get stuck in my throat and occasionally when I try to catch a breath whilst swimming I'm unable to.  This makes me involuntary heave as my body tries to removes the blockage. Not pleasant.
But I didn't expect it to happen immediately.  I've experienced this a lot over the last year or so, and I'd briefed the team on it.  So they knew if I stopped swimming this was probably why, not to worry and I'd catch them up.
After this, I was already 10 metres behind the pod so put my head down and swam to catch them up.  And then it happened again. And it kept repeating every 5 minutes.
We were all swimming independently at this point, because the waves and chop were making it difficult to stay together.  But even so, I was lagging behind.
At this point quite a lot of negative thoughts were going through my mind.  I thought I'd be holding the team up. I thought I'd have to get out. But I knew that when this has happened before, it took a little while to clear but it eventually did clear.  And that's when something clicked. I decided that even though I felt awful, I would swim another 30 minutes to the second feed and see how I felt.
When we came together for the first feed, I told the team what was happening, and that if it continued I'd have to get out at the next feed.  Brilliantly, they acknowledged it but gave me no sympathy. No-one said a word. Which was exactly right. But as we started swimming the second half hour, Rochie stuck to my side the whole way.  It felt like all those training swims we'd done together. And it got me through it. There was no way I was getting out. So whilst I had a couple of repeats, I was improving by the minute and knew I'd be ok.
One hour plus  
With the unpleasantness behind me, I could focus on enjoying the swim.  The sun was up but the sky was overcast. The wind and waves that faced us at the start started to die down as we left the coastline, and we found ourselves swimming in a reasonably calm sea.
The water in that part of the world is glorious.  It's crystal clear and the visibility is unprecedented.  Whilst swimming you can see your arms with amazing clarity, which means you can really focus on your stroke and technique.  It also meant that it was always clear where all the team was as you could see the other swimmers perfectly underwater, even if they were a distance away.
I set myself some internal milestones.  The first was to get to the two hour mark as that would mean we were half-way across. After that, I'd focus on getting to the three hour mark which would leave us with just an hour left to swim.  Or so I thought.
At the two-hour mark, I was feeling good.  We were all keeping pace as a pod. Rochie and I were level as expected, Hannah was zig-zagging to slow herself down and Guy was right there with us.  My stroke was smooth, the water felt beautiful and the transparency was breath-taking. At the feed everyone seemed happy. I deliberately didn't look to see how far we had to swim.
We weren't getting much in the way of updates from the boat, but that was fine.  We were all comfortable with our swimming and the feeds were working well. All was good so far.  
The middle
It was hard to determine what pace we were swimming, but it felt comfortable.  It was a marathon not a sprint, and so we weren't gunning it as we knew we had a long way to swim. 
But at the 3 hour point, Marco told us it would be another 2 hours to swim.  As we had expected to do the swim in four hours, this was surprising and a little bit of a blow.  Particularly as we didn't feel like we had been swimming slowly. But at the same time, we were all comfortable with a fifth hour.
At this point I looked at the Corsican coastline so I could try and gauge how far it was.  It's always difficult to do that, especially when you're in the water. But I could see it clearly and could make out a large white house a little above the shore, that we were told we were aiming for.
We asked Tomasso how we were doing in terms of progress and he gave us a gesture we which took to mean ok but not great.  He then told us that we needed to swim faster. I therefore figured that if we did swim faster we'd claw some of the time back and get in below five hours.
As we were about to swim on from the feed, Guy told us that he didn't have another 2 hours in him.  We knew in advance he was far from peak fitness, and he'd agreed to do the swim when we thought it would just be four hours, not five.  But the rest of us just collectively responded with, "ok let's go" and started swimming again. I knew that Guy would be fine and was probably just letting off some steam.  He's done swims three times as long as this one, so even with him not in tip top shape, I was confident he'd get it done.  
The four hour point
With us extending beyond our expected swim time, I knew I would need more than my pre-prepared feeds.  I adjusted my feeds by keeping the Gatorade Prime (my preferred nutrition) for a later feed and replaced it with a Gu gel.  I didn't want to run out of Gatorade Primes and thought that if I kept them for later they would give me a psychological boost.  Marco had demonstrated himself quite capable managing our feeds and it's a good job as we were going to need him.  
At this point, Rochie started asking for hot water with his feeds.  Rochie is a lean guy, and although I deliberately didn't ask him, I knew this meant he was starting to feel the cold.  We couldn't hang around and needed to get this swim done.
When I looked at the coast, it didn't seem to be have gotten any closer since the last feed.  It was clear there was a current we were fighting, but the impact wasn't clear to Rochie, Guy and I.  But it was to Hannah. She was able to take breaks during the swim because of her quicker pace, and she was using these to assess our progress.  There was a kind of archipelago of small rock islands just off Corsica and Hannah was using them to measure our lack of progress. She let us know about it in no uncertain terms at the four hour feed.  She barked at us that we were swimming far too slowly, barely making any progress and needed to pick up the pace significantly. It was a great team talk.
In retaliation I smashed out the next 30 minutes.  It was the best I felt all swim and I swam side by side with Hannah for most of it.  Rochie and Guy were slightly behind us, but I knew they were picking it up too.
I was swimming well, absolutely loving it, and the next feed came extremely quickly.  But it was extremely disappointing to see that at the 4h 30m mark, we hadn't progressed anywhere near as much as what I thought we'd have done.  And we certainly weren't 30 minutes from the shore. So this was not going to be a 5 hour swim either.  
At this point, Rochie decided he only wanted hot feeds from now on.  So he started giving Marco new instructions for all his following feeds.  Because this hadn't been discussed prior to the swim, it understandably took a while for Marco to understand what Rochie wanted.  This resulted in the feed stop taking quite a while, so Guy told Roche to stop placing orders for a macchiato with skimmed milk and let's get on with it.  And on we swam.
How long is this going to take?
As we approached the 5 hour mark, I started to get a few niggles.  My arms began to ache and it started to hurt in my right shoulder when I put power into my stroke.  I relaxed my swimming a little, but was very conscious that we still needed to swim quickly to make it across.  So I couldn't relax too much.
As things weren't going to plan, it briefly crossed my mind that perhaps we wouldn't make it.  I wondered if the current would get even stronger as we approached the shore and hold us off But I dismissed that thought immediately.  We were definitely going to make it, no matter how long it took.
At the five hour feed, Tomasso told us we have 1 mile to go.  I knew that all of us can normally bash out a mile in 30 minutes so I was optimistic that would be the last feed.  Tomasso told us to aim for the "white" house on the western headland. We set off aiming aim for it and he raced after us in the boat and told us off.   Then we realised he meant the "light" house on the opposite eastern headland.
I stayed close to Rochie and we pushed on for the next 30 minutes.  Slowly, the next feed came at 5h 30m. We didn't seem to be that much closer, but we were progressing.
We finally make it
At the 5h 30m feed Tomasso told us we had 700 metres to go.  Normally this would take us about ten minutes to swim. But not on this day!  We kept pushing. It seemed to take absolutely ages. We were pushing hard but progress was painfully slow.  And then finally, we saw the bottom. But because the water was so clear, it looked quite deep which meant we still had some way to go.  The sight of land on the bottom gave us all a boost though and we swam hard to get into shore. But the bottom stayed deep for some time.  It felt like we weren't making any progress, but we just kept pushing. Eventually, the bottom started moving towards us and finally, the land started to be within touching distance.
We swam further in until we could stand and then slowly stopped swimming and stood up.  We made our way through the waves to Capo Sperone beach on the shore of Corsica. As we cleared the water and gathered on the shore, we embraced and all immediately starting exclaiming how that took a lot longer than we expected!  But it didn't matter, because we had made it.
We had swam across the Strait of Bonifacio from Sardinia to Corsica in 6 hours and 11 minutes.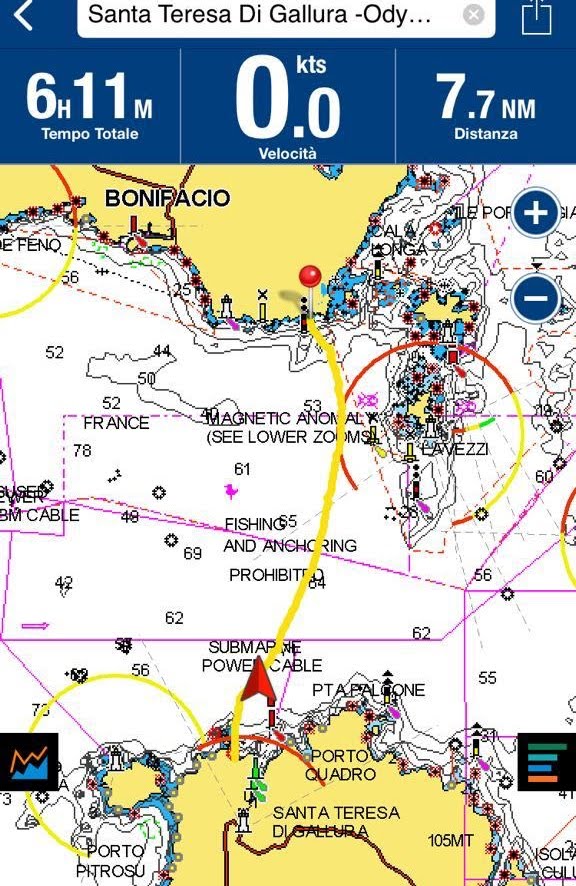 In addition...
When reflecting on the swim, I asked my fellow swimmers what their thoughts were.
Guy summed up his as follows :
"The swim was a lot more challenging than I expected. I was undertrained, which made it a very tough swim especially as it took about 2 hours longer than expected.  It took forever to fight the current and make it to the beach. Actually, I was very happy to have a beach landing as on many of my swims, I've landed at rocks and was not able to walk out of the water. I thoroughly enjoyed being one of the bulls for this swim, even with my gorilla heritage!
All in all, it was a genuine slog, and I was very happy when I finally stood up, nearly fell over and walked out. For hours during the swim, I thought my shoulder would give out and my breathing discomfort would become an issue.  I could not have swum any faster. When I was at the airport on the way home that evening and had to run to make the connection, I was shattered and it must have shown on my face as everyone kept asking me if I was ok. That about says it all! "
Hannah had the following take on the swim :
" I'd been casting round for a fairly chunky swim to complete this year as most of my swim season was taken up with weddings.  So when Elliot and Rochie asked whether I wanted in on their Sardinian adventure I said yes like a shot.
Due to the aforementioned rash of weddings I'd not been training as much as I'd have liked, but Elliot sold me a tale of a 12km stroll in calm waters so I figured my relative unfitness wouldn't matter that much.....
Having spent Saturday (the day before the swim) watching how changeable and turbulent the Strait was I started getting an inkling that we weren't in for such a smooth ride.
My take on "race day"....
The first hour was incredibly rough. I found myself worrying every time I misjudged my hand entry into the water or got battered by a wave. It was comforting to be able to see all the boys as we tackled the surf together. Ignoring Elliot's sob story of being sick at half an hour was easy.... This was his madcap adventure and no way were we doing it without him!
The next hour and a half were really lovely. The sun came out and sparkled through the water, there were some lovely little blue jellyfish to spectate and I was happily tacking to and fro to make up for the speed differential in the group.
At 2.5hrs Marco told me in no uncertain terms that the tacking had to stop and I had to stay with the group.  It was also at that point that the group's pace began to slow as we met the current proper.
The next 1.5hrs were less than pleasant. I was doing a healthy mix of backstroke and breaststroke to match the pace and I was acutely aware (thanks to a rocky outcrop that I never want to see again) that we were making little progress.  I was also, due to the drop in pace, pretty cold.
For the first hour of this section I started having pretty resentful thoughts about how long this was taking, and unfairly snapped at the boys at feeds (though with a fair point to be made about pacing). I knew an attitude change was due if I was going to enjoy this swim so I set myself a different goal.... At the rate we were going this would be the longest time-wise I had ever swum for. Reshaping the swim in this way helped me stay in the moment and, I hope, made me more pleasant for the boys to be around.
The swim was tougher than I expected but I never felt that I didn't have another half hour in me, which allowed me to focus on going from feed to feed and swimming the water in front of me.
Although intensely frustrating at times the group nature of this crossing was ultimately rewarding. Standing on a beach in Sardinia and feeling like you're embarking on an adventure with friends, and then standing on a beach in Corsica triumphant (if a little achey) with those same friends, is a really special feeling.  When I was scared, when Elliot was sick, when Guy was tired and when Rochie was cold, it was the others that got us through.
For the record, my nutrition plan:
Large glass of red the night before
Frosties for breakfast
Banana and Gu at feeds in whatever order Tomasso throws them at you during the swim

"
And finally Rochie added :
" It is often said that sport 'builds' character. Whilst that might be correct, I think it truly 'reveals' character.
Hannah: I was thrilled when Hannah resoundingly said 'yes'. Hannah is a splendid swimmer (and water polo player) with youthful exuberance and a no nonsense determination in getting the job done.
Hannah was a natural leader in the water and literally led from the front and encouraged us in an enthusiastic way right to the end, even when she was no doubt feeling the cold and some pain herself. The standout moment was at the penultimate feed when Hannah swam over to me to make sure that I was ok and in particular not too cold. At this stage my stroke rate had dropped off considerably. Then turning to us all, Hannah urged us to dig deep by lifting our stroke rate, literally driving one arm over the other until we landed on the beach. With that pep talk, we regrouped mentally and physically. It was like a much needed group hug.
Guy: Guy and I make up a number of Australians in Red Top Swim. Although he has been living abroad for many years he still demonstrates that wonderful Australian easy going, happy go lucky approach to life. I don't know many people that wouldn't have been thrown into a complete spin (or panic) to arrive and find their suitcase (and own swimmers, goggles, swim cap, nutrition and asthma pump) still all sitting at Stansted airport. Guy nevertheless took this in his stride and made do with a pair of Elliot's Funky Trunks, one of our many spare pairs of goggles and a combination of our nutrition. Fortunately Hannah had an asthma pump, so Guy was good to go. No worries. Another of his many fine qualities is his ability to tell a good yarn, and when humbly telling us stories of some of his heroic solo swims the day and night before the swim, like the North Channel, English Channel and Tsugaru Strait, it put our adventure into perspective. It was both reassuring and a privilege to be able to swim alongside Guy.
Elliot: This incredible swim was made possible because of Elliot's determination to accomplish another open water swim that isn't well known. Whilst recently married, relocating abroad and always with an impressive 'to do' list, Elliot still found time to work out the logistics. We owe him a massive thank you for making it happen.
Like Guy, Elliot is a great conversationalist, and I don't mind listening and sharing a thought or making a comment along the way. For example, after successfully completing our three man English Channel relay in 2017 at around midnight, we sat on two deck chairs aboard our support boat and talked triumphantly all the way home, from Calais to Dover. It was probably at that time that we committed to another swim challenge in 2018. Our talks continued at swim camp in Croatia and to and from our many training sessions. So by the time we dived into the turquoise water in Sardinia, I was certain that Elliot had workshopped most scenarios and together, we were confident that we would smash this strait with Hannah and Guy.
Finally, Elliot is solicitous of other people's needs. He helped organise Guy's replacement swim trunks and nutrition in a nanosecond. Elliot also carefully thought through a nutrition plan for the two of us, which he systematically made up for the night before. As it turned out, this my longest continuous swim and with the water temperature at 21, our feeds were crucial to keeping me warm and on track.  
The benefit of swimming in a pod with good mates is that we could draw on each other's strengths and of course share the success together.  This group swim was testament to the fact that 'the whole is greater than the sum of its parts. "
**************************
Postscript
Shortly after we returned home Tomasso sent us the following 8-minute video of our swim: